On Thursday, November 10, 2016 the Bonner County Board of County Commissioners (BOCC) held a public hearing to make their final decision on what to change in the Subdivision Ordinance. For the most part, the BOCC returned to their initial intent.
The major adjustment to the ordinance was to add a new category of land division. Previously, there were only the "Short Plat" and the "Subdivision" categories. The new category, the "Minor Land Division (MLD)" includes any property division into 4 or fewer lots.
The Short Plat was redefined to mean any division of land into 5 to 10 lots. The Subdivision category is any division of land into 11 or more lots.
The resulting lot sizes of the newly defined MLD and Short Plat categories are still subject to zoning. The BOCC goal was to create a simple and inexpensive process for landowners to divide their land. Below is a chart highlighting the changes, with an example of how the new code could be applied.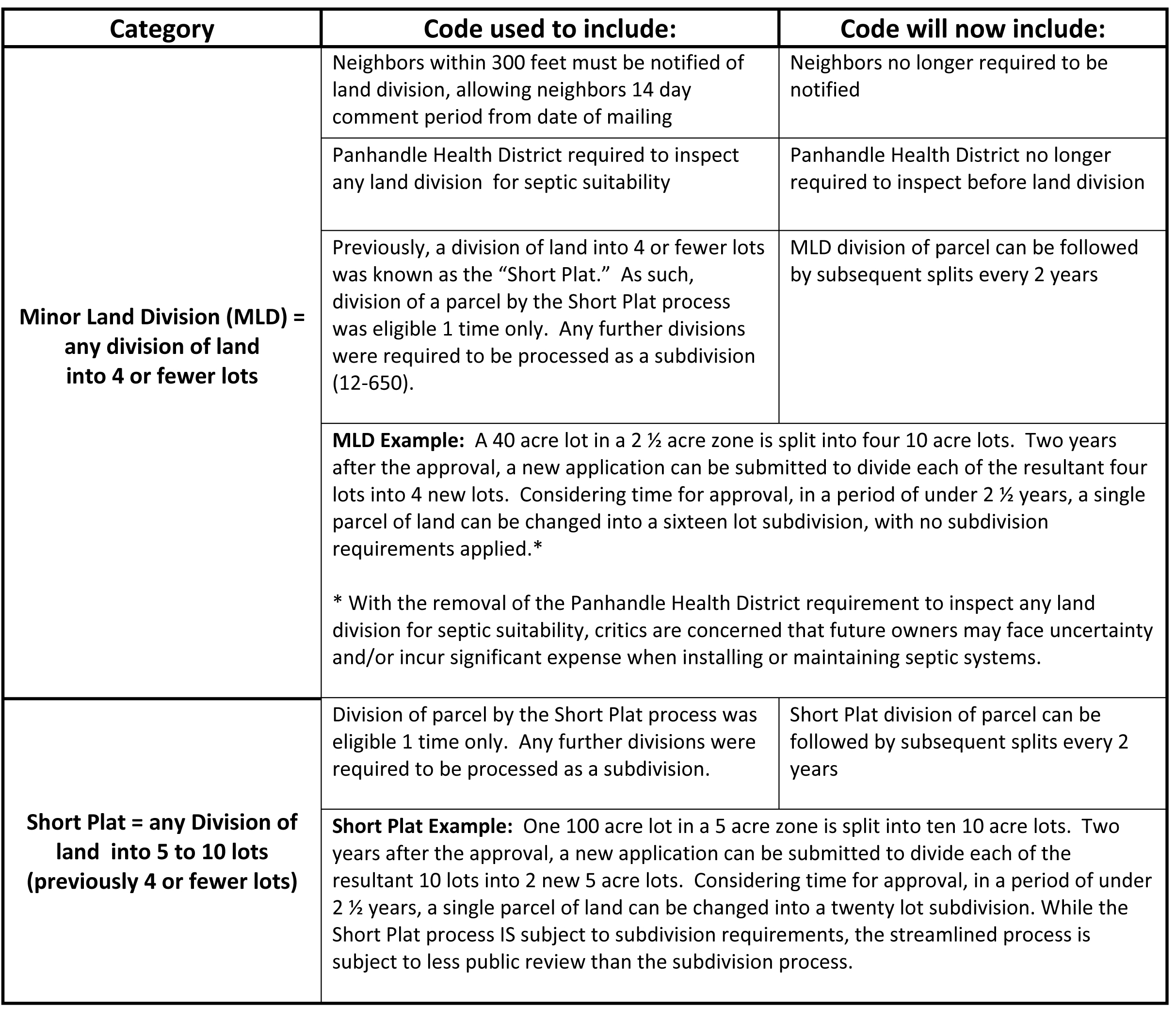 One other notable change adopted was the increase in permitted frequency for subsequently dividing a parcel under the Family Division process (12-612 C). Previously a division under this process was limited to splits every 4 years. Now, under the new code, splits can occur every 2 years, similar to the MLD and Short Plat processes.
The Bonner County Commissioners had referred their proposed subdivision changes to the Planning and Zoning Commission for public input and recommendations. P&Z conducted a robust public process. The BOCC ultimately decided to maintain the bulk of their original proposals.
Please click here to view the changes in the Bonner County Code. Project 7B thanks all those who participated in the Planning and Zoning Commission workshops or gave public testimony at the meetings.