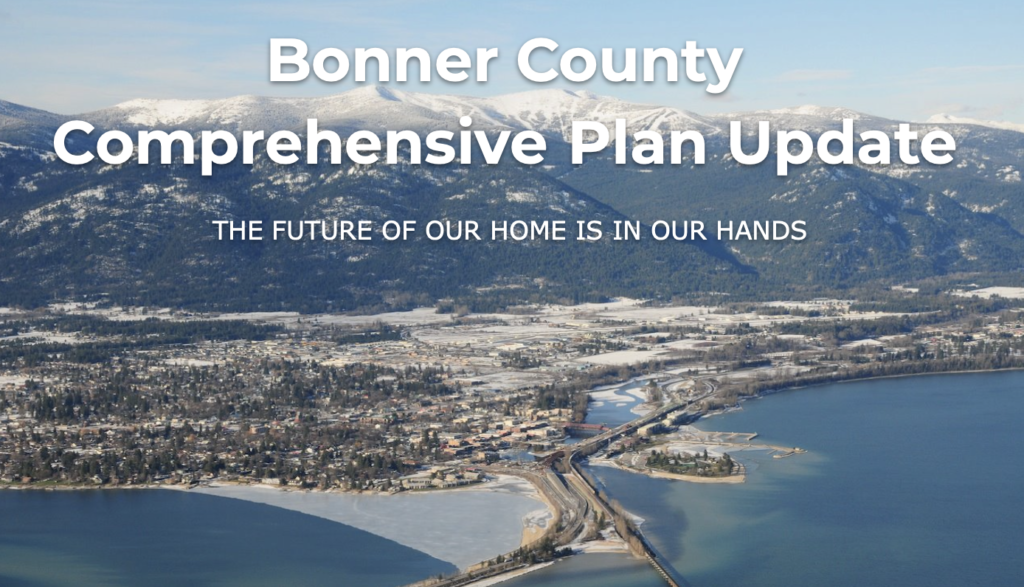 What is a comprehensive plan? Cities and counties all over the country have comprehensive plans, which are guiding frameworks for how the community wants an area to look like over the next 10-20 years. They usually take about a year or more to complete and are done every 5-15 years. Cities have a separate plan from the surrounding county. The main focus for these plans are land use but that includes many subjects like public services, transportation, housing, and property rights. One of the biggest and most important parts of the plan is public engagement. This comes in many different ways but is central to making sure the plan is well rounded and has a diversity of input from those who live in city limits to those who live out in the county to various community stakeholders.
Our current comprehensive plans: The City of Sandpoint has consultants working to gather data and they hope to start engaging with the public in late July and have the final draft done around Spring 2023.
Bonner County has a much different approach, to say the least. About 4 years ago, the county planning department started 5 subarea committees and some of them did several public workshops/outreaching and others did not. That is the public engagement that the County Planning Commission is relying on to "inform" the decisions they are currently making on the Comprehensive Plan.
After attending some of these planning committee meetings over the last two months, where they are making these changes to the plan, Project 7B members have become very concerned about the aggressive timeline the commission has adopted as well as the lack of real public engagement. The planning commission began working on this in May and want to be done by August. That is a 4 month timeline as opposed to a normal 1+ year timeline that is often adopted by other counties and cities.
What to do now? The County Planning Commission has scheduled a meeting on July 19th, which is not open to public comment but the public can attend and see how they go about making these decisions.
On Aug. 3rd, the first of two public hearings will happen and will be the publics opportunity to voice concern about the aggressive timeline, considering they want to be finished and ready to submit final recommendations to the County Commissioners at the second public hearing on August 16th.
Sandpoint citizens are recommended to reach out to the Bonner County Planning Department and/or County Commissioners and/or the County Planning Committee to express concern. Project 7B has written a letter to the commission and will continue to do what is necessary to get the timeline extended.
Exploring Innovative Solutions to the Housing Crisis: Community Land Trust
Panelist Michael Brown shared a project they are working on in Bozeman, MT to provide affordable housing in a new neighborhood development. Katie Cox, executive director of Kaniksu Land Trust and Erik Brubaker, Planning Director for the City of Ponderay, were also on the panel discussing development in the area.
Click here to watch the conversation: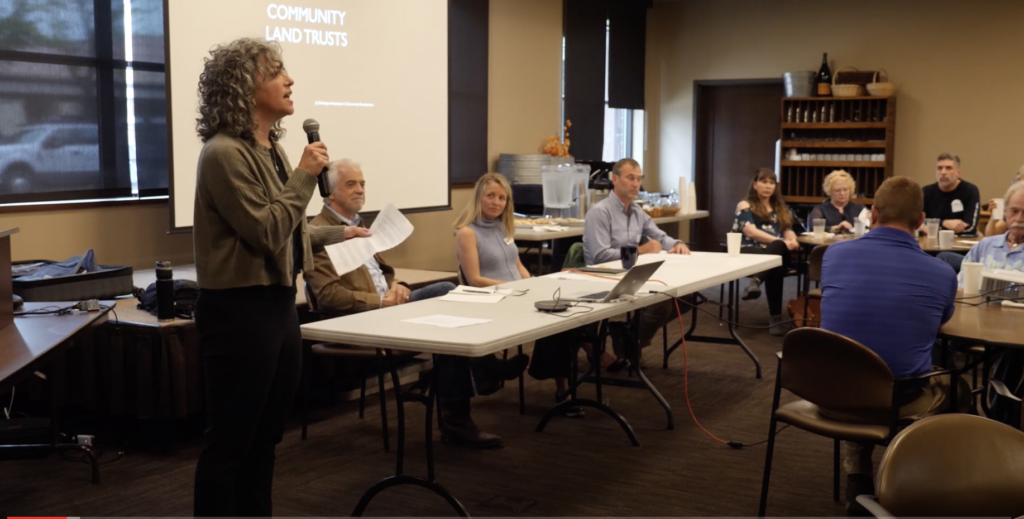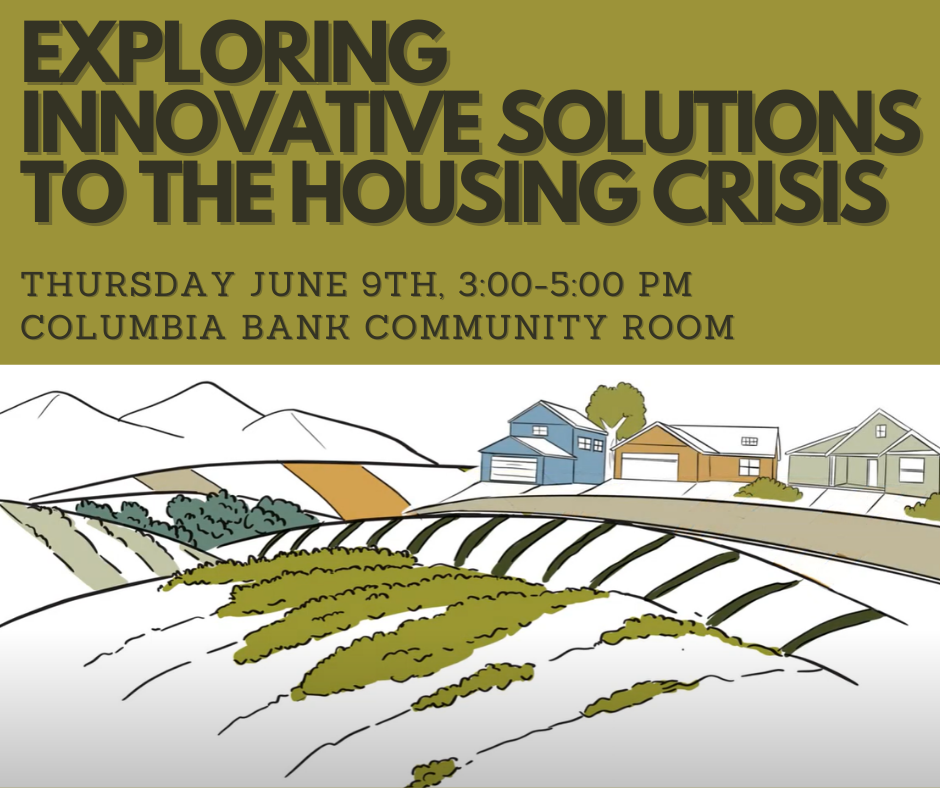 SANDPOINT – Like many communities in the rural west, Bonner County is experiencing a severe shortage of workforce and affordable housing.
Most local residents have stories of friends or family who can no longer afford to rent, nor to purchase a home at the current market prices. Meanwhile, businesses are hurting for employees who either cannot move here nor remain in the area due to the gap between prevailing wages and the high cost of housing.
Project 7B and Kaniksu Land Trust (KLT) are among organizations in the community searching for solutions. These two have coordinated a panel of speakers on June 9th to discuss one potential tool to address this situation: housing provided through collaboration with community land trusts (CLTs).
"A Community Conversation: How workforce housing can be delivered through collaboration with community land trusts" is the first topic of what's hoped to be a series of discussions regarding workforce housing, according to Carol Curtis of Project 7B.
One of the panelists is Michael Brown, an expert on community land trusts. Brown has spent his last 40 years working with Burlington Associates with a focus on establishing and supporting community land trusts. Brown also leads the Headwaters Community Housing Trust, a non-profit that is tackling similar issues in Bozeman, Montana. The group has just unveiled their first CLT project: Bridger View.
Community land trusts are one housing strategy that is being employed in a number of communities facing the same challenges that Bonner County is currently experiencing.
Additional panelists will include KLT Executive Director Katie Cox and Ponderay City Community Development Director Erik Brubaker. The panel will be facilitated by Lisa Gerber of Big Leap Creative. Gerber's podcast, Breaking Trail, has tackled the subject of growth and affordability in recent episodes.
Following the panel discussion, attendees will be invited to join roundtable discussions to explore the viability of using the community land trust strategy in the Sandpoint area.
To learn more and help to brainstorm solutions, you are invited to attend the event, scheduled for 3:00-5:00 p.m.on Thursday, June 9 at the Columbia Bank Community Room, at 5th and Church Street in Sandpoint. Refreshments will be served. The event is free and open to the public.
This event is made possible through a grant from the Bonner County Human Rights Task Force and with support from the Selkirk Association of Realtors and the Bonner Community Housing Agency.

Location: Columbia Bank Community Room
Date/Time: Thursday, June 9 at 3 p.m.Cost: Free. Refreshments will be provided
Facilitation/Panelists: Lisa Gerber of Big Leap Creative will facilitate the conversation. Special guest, Michael Brown of Burlington Associates has 40+ years experience working with land trusts and has experience with the community land trust model as a potential solution for housing shortages. Other panelists include KLT Executive Director Katie Cox and Ponderay City Community Development Director Erik Brubaker.
Sponsored by Kaniksu Land Trust and Project 7B with support from the Bonner County Human Rights Task Force. Contact KLT with questions: (208)263-9471.
Bonner County Story Map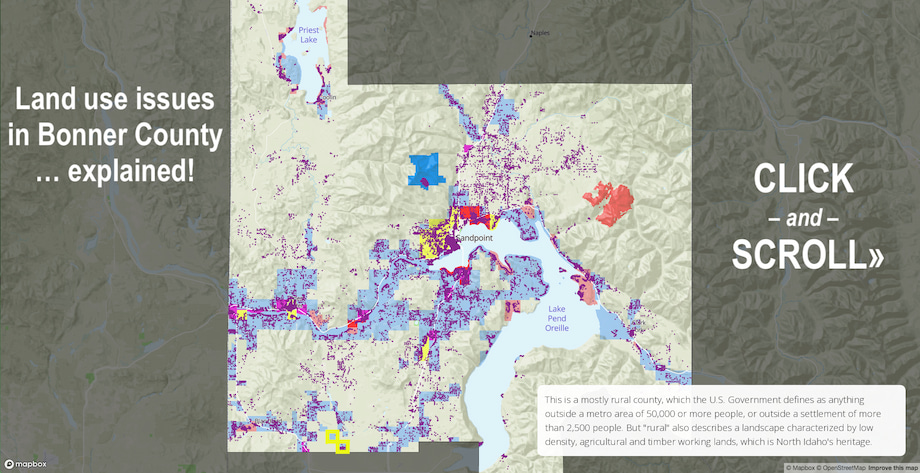 The core land use issues concerning development and ways we might maintain rural values in Bonner County can be complicated. But check this out! We've cooked up this "Story Map" that uses some great visuals to help explain land use planning issues in Bonner County. Click to the Story Map »
---
Watch Land Use Planning 101 in Bonner County
On April 14th, 2022, Project 7B paired with the Gateway and Natural Amenity Region Initiative to give you Planning 101, a webinar for Bonner County. Watch the webinar to learn all about comprehensive plans from Jordan Katcher and Leanne Bernstein. You can also see the summary and notes from the webinar here.
---
Sandpoint Reader, February 25, 2021
Enjoy a two part feature article written by Project 7B Board Member Susan Drumheller.
Link to part one in Sandpoint Reader here.
Sandpoint Reader, March 4, 2021
Link to part two in Sandpoint Reader here.
Welcome to Project 7B
Project 7B is a non-partisan group, who simply want to help the residents of Bonner County understand and become more involved in land use planning. For that reason, Project 7B decided early in its existence to advocate for transparent land use planning and processes, and encourage public education and involvement in those processes. It also encourages jurisdictions to cooperate with each other to achieve mutual goals.
Project 7B's Website:
Project 7B has created this website as a resource for the public to learn about land use planning in Bonner County and the area's cities, and how to get involved. Land use planning can be an overwhelming topic to jump into and we aim to make this task less intimidating with the goal of encouraging citizen engagement in the local planning process. In this website you will find information about the basics of land use planning on our Land Use Primer page including summarized fact sheets about planning, zoning and the laws that guide these processes. Please visit our Updates page to learn about what is new with planning in our county and local cities. We have numerous links to more in-depth information on our Resources pages: Cities, Bonner County and General Planning.
Support Project 7B
Thank you for being a Project 7B follower. It's a lot of work keeping up with area planning, and we're here to help protect planning principles and support citizen involvement. In 2021 the BC Planning Department plans to amend the mining ordinance, as well as subdivision and nearshore codes.
We work to educate locals about the power of land use planning to support community goals and individual property rights and encourage responsible public participation in planning and government. Project 7B is important to the future of our area.
Please consider donating to help us continue to keep Bonner County residents informed.
Time-lapse Imagery of the Last Quarter Century on Earth
Take a look at this site from TIME magazine http://world.time.com/timelapse/. Choose a location and watch the changes that have occurred from the mid-1980s until 2012 from satellite images strung together. You can look at some of their focus locations such as Las Vegas or the Amazon or you can type in any location such as Bonner County.