City of Dover:
KOVA ENTERPRISES, LLC is requesting a comprehensive plan map amendment (File #AM16-19) from Compact Suburban and Small-Scale Working Lands to Mixed Use with Conditional Overlay, a zone change (File #ZC01-19) from Residential to Commercial, a special use permit (File #SUP001-19), and a variance (File #VAR003-19) for a rear yard setback of 10 feet, where 25 feet is required, to allow for development of rental garages. The 4.35-acre site is located north of Railroad Avenue, south of the Union Pacific Railroad right-of-way and west of Mill Road. The property is located in Sections 29 and 30, Township 57 North, Range 2 West, B.M.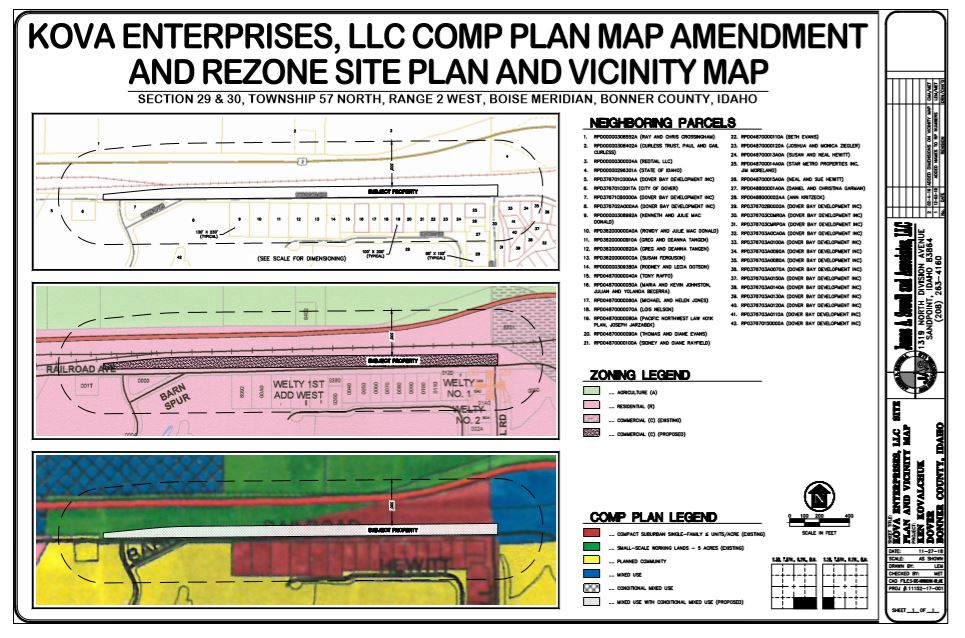 Dover is currently in the process of updating their Comprehensive Plan.  Please check in from time to time to at their Comprehensive Plan page. A hearing scheduled for July 22 at 6:00 PM the city will consider amendments to the Comprehensive Plan. The hearing is at Dover City Hall, 699 Lakeshore Ave, Dover, ID.
City of Sandpoint:

The city will conduct a hearing on July 17th to consider a moratorium on airport overlay rezones. The hearing is in council chambers and is scheduled for 5:30 PM.